UNIGINE 2.13: GPU Lightmapper, Volumetric Clouds Upgrade, Better AA, New Terrain Tools
Nov. 24, 2020
We are happy to inform you about the general availability of the new UNIGINE Engine 2.13 release.
Key Changes
GPU Lightmapper tool
Introducing SRAA (Subpixel Reconstruction Anti-Aliasing)
Upgraded 3D volumetric clouds
Performance optimizations for vast forest rendering
New iteration of the terrain generation tool with online GIS sources support (experimental)
Adaptive hardware tessellation for the mesh_base material
Project Build tool: extended functionality and a standalone console-based version
New samples (LiDAR sensor, night city lights, helicopter winch)
Introducing 3D scans library
See the full release notes with technical details here.
GPU Lightmapper Tool
Introducing a new GPU-accelerated lightmapping tool for baking global illumination providing unprecedented quality results out of the box.
Robust baking tool
Fast adaptive sampling, partial re-baking
Automatic UV unwrapping
No light leaking artifacts, predictable results
Upgraded 3D Volumetric Clouds
Improved shading (including Sun Attenuation parameter, In-scatter probability implementation, Sun Saturation parameter)
Noise reduction
Accurate layers sorting
Better quality at lower cost
Other clouds improvements
Introducing SRAA (Subpixel Reconstruction Anti-Aliasing)
Introducing Subpixel Reconstruction Anti-Aliasing (SRAA), an additional anti-aliasing technique that restores small image details providing a net speedup and minimal overhead compared to supersampling.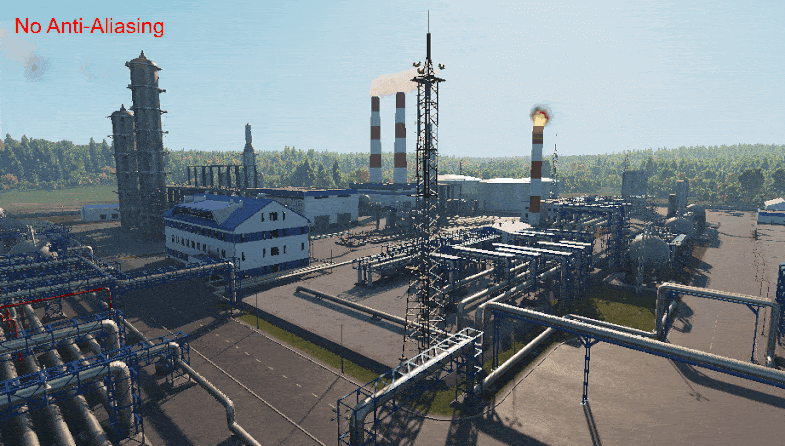 Performance Optimizations For Vast Forest Rendering
Impostors, that are used instead of real geometry to gain performance (trees in forests, buildings in towns, etc.), have got their own performance faster along with a better look. Optimized depth calculation for impostors has brought up to 10x performance boost.

Adaptive Mesh Tessellation Everywhere
Tessellation for static meshes is back again (as it was in UNIGINE 1), in addition to the water and terrain systems using adaptive hardware tessellation. The mesh_base material now supports Adaptive Hardware-accelerated Tessellation that subdivides low-poly surfaces into finer meshes, to achieve higher visual quality (add more details) for a lower rendering cost.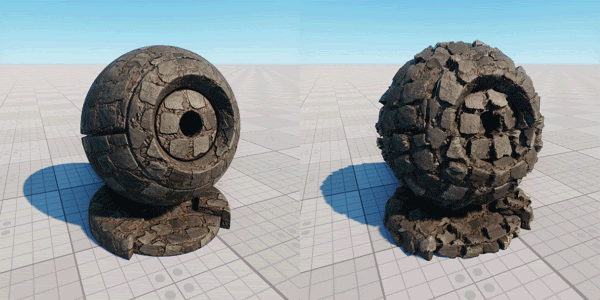 Night City Lights
Emission feature is now available for decals enabling you to simulate huge amounts of lights at far distances, like cities in the night viewed from an aircraft, without affecting performance much.

Improved High-Level Image Generator
Significantly improved synchronization accuracy (image, timing, network interaction, and overall perception).
Improved support for NVIDIA Quadro G-Sync
Added visual debug mode
Introduced experimental CIGI host
New Sandworm Tool (Experimental)
Support for online GIS data sources
Performance-optimized core rewritten from scratch
Improved usability
Better vector attribute filters
Combination of different projections
Helicopter Winch / Crane Rope
Rope physics can be extremely difficult. That's why we created a demo that features a simple and elegant way of creating a winch or hoist. This type of winch is suitable for simulation of helicopter operations or heavy-duty equipment towing.

LiDAR Sensor
This demo contains the LiDAR emulation that can be used for training autopilots and AI. LiDAR is a method used in self-driving cars, drones, robot vacuum cleaners, etc. for optical scanning of surroundings.

Introducing 3D Scans Library
New Scans content add-on has been added to SDK. It contains a set of ready-to-use assets created on the basis of real-world photogrammetry (scans of stones, wooden debris, etc. to add more diversity to your outdoor environments. We plan to keep updating it with new objects in further releases. This library is available for free for all SDK editions.
Other Major Features
IES profiles for light sources
Adjustable fisheye projections
Export scenes into FBX
SSGI intensity boost
Scriptable Materials integration into the editor
Advanced color correction
New manipulators for physical shapes
Multiple console improvements
Earthworks demo updates (digging resistance, grading operations)
Standalone runtime files generator
Various C# Component System improvements
CIGI host (experimental)
Localized documentation (added Russian and Chinese languages)
Be sure to download the latest version!
Check the full text of release notes on the developer portal.